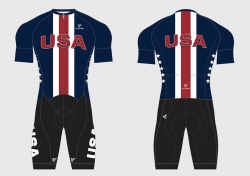 USA Men's Silver S/Sleeve 2in1 Suit
Aerodynamics, moisture management and sun SPF 50+ combined in our silver 2in1, for the achievement of your goals in the summer months.
A one piece designed to meet the highest demands of professional drivers. Made from a combination of the aerodynamics of a speedsuit and the flexibility and comfort of a jersey-short combination, therefore also called 2in1. The top is made of lightweight, breathable and moisture wicking material and creates additional turbulence on the surface to reduce air resistance. The innovative and tight cut in the shoulder-arm area supports the aerodynamic feature and by the SPF 50+ feature of the upper part, this one-piece is perfect for warm and sunny days. The latest techniques and cutting-edge design allow the top and shorts to be combined in a way that only the front area divides to provide the flexibility and comfort of a jersey/short combination. The pants are also made of breathable and moisture wicking material and feature a comfortable compression fit. Inside, the flat seams applied discretely using the Power Seam process ensure that the shorts have a streamlined shape and maximum elasticity. Our successfully Pro-Tour tested, pre-shaped MS2 chamois is perfectly adapted to the shorts and has different reflex zones to cope with alternating loads with comfort. The pad's surface guarantees excellent moisture management with Schoeller's Performance fabric, while the receding carbon yarns guarantee shape retention without sacrificing breathability. This exceptional chamois is rounded off by the fact that the left and right sides move independently of each other in order to do justice to the individuality of each driver. The silicone applied to the inside of the leg ends guarantees a non-slip fit.
2in1 combination for the warm summer months
Light, Breathable and moisture-transporting materials in top and bottoms Material in top features 50+ SPF

Compression Fit 

Streamlined flat seams for maximum stretch

MS2 chamois with different reflex zones for increased comfort

Schoeller's Performance fabric for moisture management

Carbon yarn for shape retention and increased breathability

Left and right sides of the chamois move independently for greater comfort

Leg end with silicone print for non-slip fit.