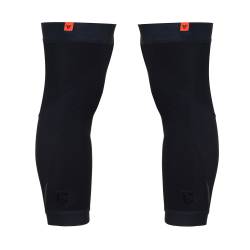 Virtue Thermal Knee Warmer, Black Logo
Made of first class soft and elastic material, anatomically cut for maximum comfort.
These knee warmers, made of the highest quality Italian material, keep you warm in chilly conditions. The elastic and breathable material is anatomically tailored to the right and left side. With few seams it is ensured that no drapery or pressure occurs and a silicone band at the upper and lower end provides perfect hold. These Knee warmers make your spring and autumn rides incredibly flexible. 
Elastic, breathable and moisture wicking material Anatomical cut                                                                  
Minimal seams for smooth material                            
Silicone band for good grip   
Black logo screen print